What we do
Arla Plast is a leading producer, supplier and retailer of extruded sheets made of
technical plastics. The plastic sheets have a wide range of applications
such as personal protection, machine safety, ice hockey rinks, automotive
parts, sound walls and greenhouses.
Arla Plast´s corporate culture and business operations reflect values that are based
on quality, speed, service and flexibility, which are our four cornerstones. Extensive experience, an emphasis on sustainability, a high level of investment and finely calibrated extrusion technology ensure that Arla Plast is well positioned

The company was founded in 1969 and has three production facilities in Sweden and the Czech Republic, as well as a distribution unit in Germany, around 250 employees, and more than 700 customers in over 45 countries. The head office is located in Borensberg, Sweden, and the company's shares have been listed on Nasdaq Stockholm since 2021.

Production
Arla Plast's production begins with the purchase of various plastic granules from producers of this material. The main raw materials are supplemented with recycled material. Various materials such as color additives ("master batches"), UV protection and other additives are then added to achieve the desired properties. The plastic granules of PC, ABS or PETG are dosed in at the beginning of the extrusion process and heated to melt the plastic. The melt is screwed forward through a barrel to a wide nozzle and shaped into a sheet. The plastic sheets are then coated with a protective film and cut into standard or customer-specific sizes, a common size is two by three meters. Pallets are transported to customers by truck or container.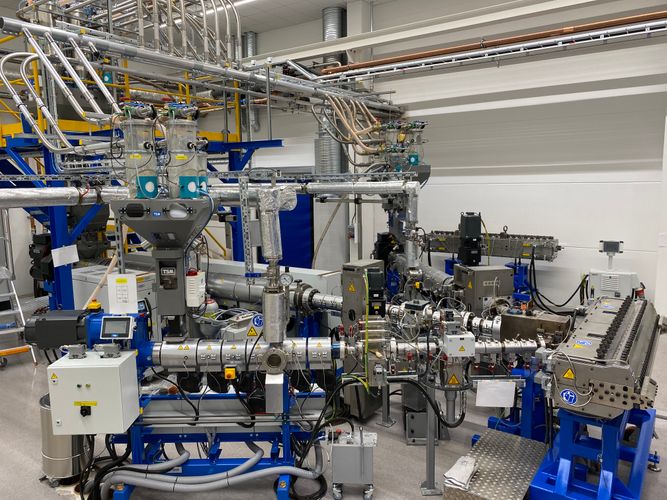 Sales and distribution
Arla Plast's sales take place through the company's regional sales offices across Europe, as well as centrally located Key Account Managers. Orders are placed through Arla Plast's order handling function, which is located at Arla Plast's three factories. The plastic sheets are then distributed through a network of forwarding agents to ensure efficient deliveries within set timeframes.